Yes sir!
In fact, you may already have a Kranzle product on the farm. Our Dirt Killer turbo nozzles have been in service in the USA agriculture space since we arrived in America in 1993. Some of our dealers include Hog Slat, Farmer Boy Ag and QC Supply. They and other local equipment sellers have access to our complete line of commercial grade electric pressure washers and the Dirt Killer classic, which is a hybrid gas machine with a Honda Engine and Kranzle Pump
To DOWNLOAD PDF CATALOG, complete this form

Questions?
Call 800.544.1188 M-F 9-5 EST



Popular Farm Pressure Washer Solutions

Quadro Series Overview
When you want a little more power than the 1122TST or the 2020 series, check out the Quadros. They are 4 wheel models and have a variety of option psi/gpm and voltage options.
Kranzle KWS series
Josh Wagner walks us through the key features of the KWS electric pressure washer series. This is a stationary model designed for rigorous day to day commercial use.
2020 PMUSR - Wall mount pre-built with hose reel
Denise shows us the pre-built 2020 PMUSR built by Dirt Killer. This unit is a 2020 Kranzle pump and motor assembly and ships pre-built.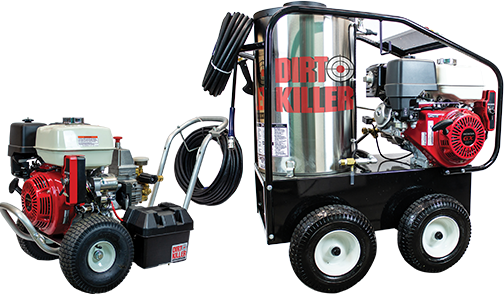 Explore Dirt Killer Classics
Our machines use a Honda gas engine and a Kranzle pump to deliver the most reliable and long lasting service possible. Dirt Killer classics are known to last 20+ years!