Kr

ä

nzle

K270 BT GAS
K270BT 3500 PSI, 4.2 GPM
The K270BT cold water gas pressure washer, producing a powerful 3,500 PSI at 4.2 GPM, is for industrial and commercial use; perfect for the professional who cleans decks, buildings, vehicles or heavy equipment; powers a large flat surface cleaner, does graffiti removal, engages in contract cleaning, or the fisherman who is cleaning crab pots, fishnets, boats. There scores of gas powered pressure washers to choose from but the K270BT is unique among gas pressure washers in five ways.
1) It features the unique Kränzle pump that can run dry and bypass better than its rivals as proven in independent laboratory tests.
2) It uses a 13 HP Honda LX gear-drive engine that reduces wear and tear on the pump by 50% while increasing torque and cleaning power.
3) The auto idle feature saves fuel and engine-pump life.
4) It has 65' of hose on a reel, giving further reach on the job and providing easy deployment.
5) The pressure washer includes the Industrial Dirt Killer turbo nozzle, powerful enough to cut a 2 x 4 piece of lumber in half in a matter of seconds.
The K270BT comes with all the accessories you need to clean: professional gun-jet lance, 65' wire braided hose on hose reel, safety coupler screw connections, exit side chemical injection, gauge, flat tip combination high pressure wash - low pressure soap nozzle, and an Industrial Dirt Killer turbo nozzle. With a cleaning power rating of 14,700 cleaning units, the K270BT cold water gas pressure washer provides a tremendous amount of cleaning power.
Cleaning power: 14,700. Measures 29-inches length by 23-inches width by 38-inches height. Weight: 196 pounds. Metal and plastic finish.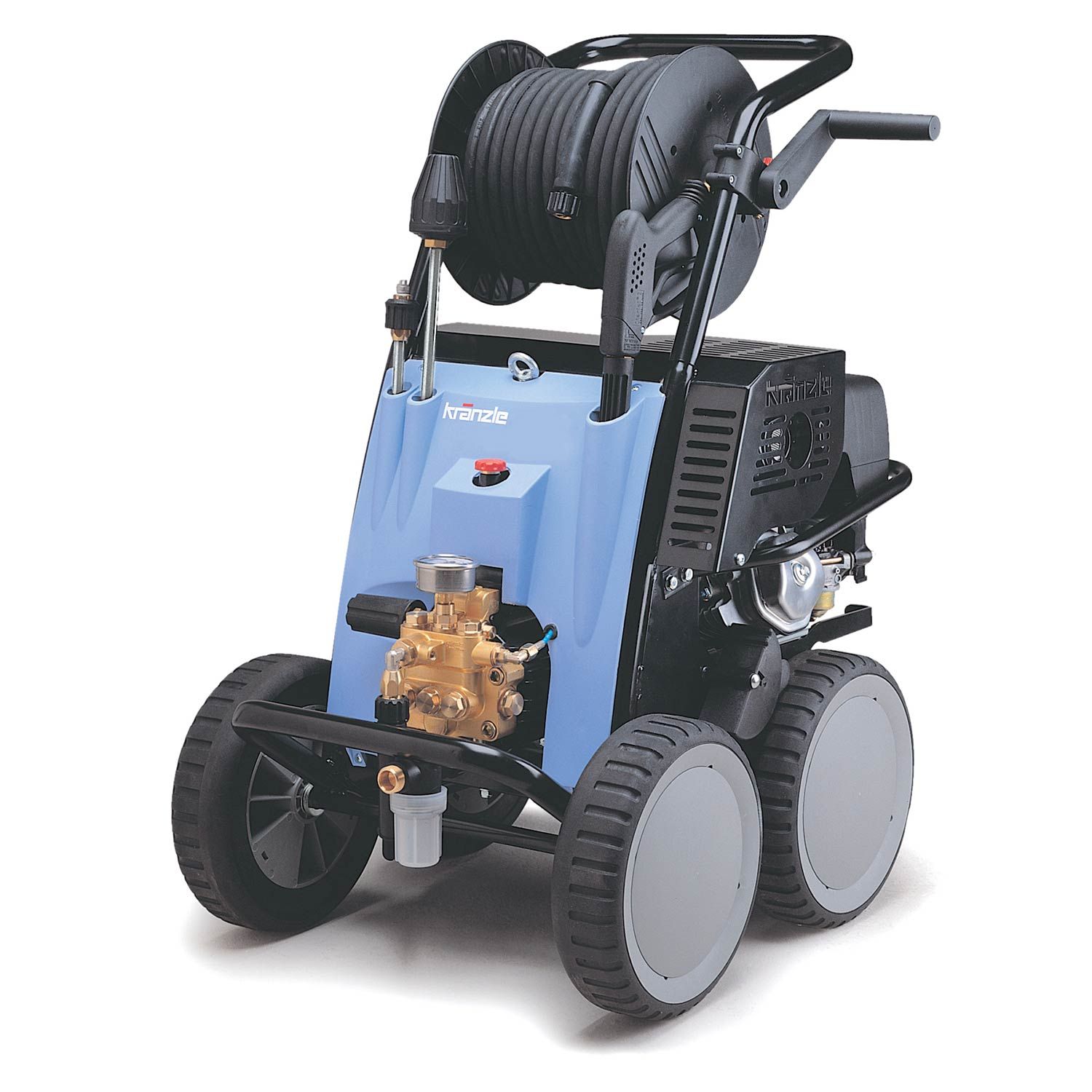 Key Features
Advanced Kränzle pump design gives multi-hour bypass and run-dry capability preventing accidental pump damage
Industrial Dirt Killer turbo nozzle doubles cleaning efficiency
Combination wash-soap nozzle saves time
Auto-idle feature reduces wear and tear on pump and engine, saves fuel
65-feet wire braided hose on hose reel with safety couplers
Honda 13 HP GX-LX 2-1 gear drive engine delivers extra torque and extends pump life
Specifications
HP: 13
PSI: 3500
GPM: 4.2
Weight: 196
Part Number: 97411931