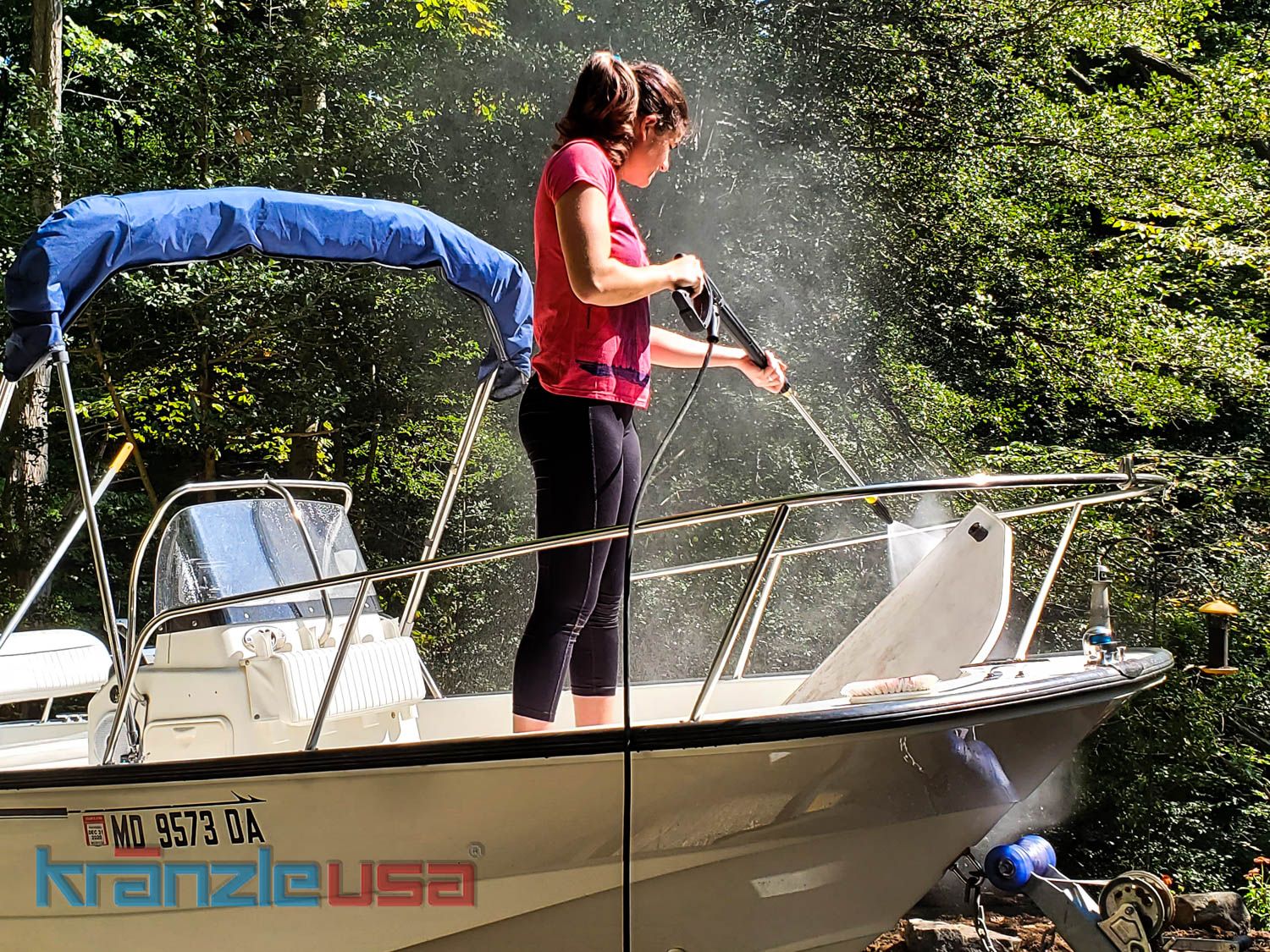 Jim Curtis, and his daughter, a local Annapolis boater with a couple of boats, jet skis and kayaks tested out the Kranzle 1122TST on his Boston Whaler this weekend. Today, he left a 5 star review on Google, which you can verify here.
Here is his review of the Kranzle 122 TST as it relates to pressure washing his boat.
"The Kranzle 1122TST is ideal for regular in-season boat cleaning and end of year storage prep. Ideally, I need to get a boat lift for my Boston Whaler and give her a spray down top and bottom, after each use. As it is, I pull her out a couple times a season to stay ahead of barnacles. The pressure is strong enough to rinse away the Bay grime, but soft enough not to hurt the decking. This keeps the hull from needing to be repainted as often and keeps her looking clean. It's also great for the cushions, life jackets and all the water toys. Great machine. And, it is so much quieter than my gas machine. It also has total stop, which is nice as well. All gas machines, except Dirt Killers, start cavitation (self destructing) when you have to walk away for a minute and leave the machine running. The Kranzle just stops and waits for my return. Great machine!"
- Jim Curtis, Annapolis boat owner.

Note: All gas machines, except Dirt Killers, start overheating (self destructing) the pump when you have to walk away. Cavitation is a separate issue caused by the pump not having enough water. Over heating a pressure washer pump leads to the water seals breaking and the plungers cracking: pump failure.  Kranzle machine, even those without total stop, can run in by pass indefinitely. This is also true for Dirt Killer gas machines which utilize a Kranzle pump.

Here are some additional photos of Jim and his daughter cleaning their boat.